Introduction
The younger a child is, the more capabilities he or she has. Every child has hidden genius abilities. However, children will not be able to activate these abilities unless they receive proper stimulation when they are young.
The goal of Shichida Centers is to activate children's innate abilities through fun activities. The right and left brains are developed in a balanced manner using Shichida original training materials and a curriculum based on "play".
We focus on nurturing children's hearts. We accept, praise and love children and strive to help children develop rich sensibilities and personalities.
0-1 year
At this age, children posses large amounts of budding potential. Activate children's unlimited capabilities through loving lessons.
Children at this age have unlimited potential and excellent absorptive ability. During lessons, we use numerous fun materials and songs to draw out children's genius abilities through enjoyable activities.
Read More
2-3 years
At this age, children are full of motivation. Instructors improve children's motivation by accepting and praising during the lessons.
When your child is two to three years old, he/she is forming the basis of his/her abilities. His/her innate abilities are growing rapidly. During this period, children like to do everything for themselves so we can develop their budding independence by encouraging them to complete various tasks.
Read More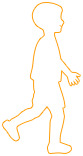 4-5 years
At this age, children are curious about everything. Develop children's independence through lessons that fill them with a sense of achievement.
Four and five year olds children are interested in various things. You should carefully listen to your child and respect his/her ideas.
Also, we actively develop children's imagination and expressive abilities by having them draw their images or verbalize what they feel.
Read More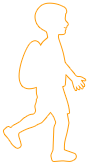 6 years
At 6 years old, children's thinking ability is growing rapidly. At this age, children's intellectual curiosity is expanding. Develop children's intelligence and improve their basic academic skills including language and math.
Thinking ability expands dramatically at age six. In lessons, we listen to children's ideas and show empathy as we encourage them to express themselves. This will encourage children to naturally improve their presentation skills. They will enjoy expressing themselves.
Read More